Over-the-top (OTT) streaming has been on the up and up, and it's recently reached a new major milestone. In July 2022, streaming services collected a 34.8% share of total TV consumption in the US, beating out cable for the first time in history. First, it was Blockbuster—and now cable.
More people are cutting the cable and turning to OTT platforms for entertainment, and companies are following the trend. Fortunately, modern-day software solutions make it easier than ever for businesses (big and small) to provide top-notch video experiences at scale.
OTT platforms help businesses upload, transcode, host, deliver, and monetize video content. Local sports, faith groups, online courses, TV series, and publishers take advantage of this technology to reach their audiences with faster, higher-quality video experiences.
New to OTT streaming? You've come to the right place. Below, we'll walk you through everything you need to know about OTT platforms. We'll show you must-have features, examples, the best OTT streaming services, tips for choosing the right solution for your business, and how to get started.
What Is an Over-the-Top (OTT) Platform?
OTT is a digital distribution method where content is delivered and consumed over the internet rather than through traditional cable or satellite. It's the way you watch streaming services like Netflix and Hulu.
OTT platforms let businesses upload, host, and deliver content over the web. They provide the features, infrastructure, and support necessary to transcode millions of gigabytes of video content for consumption across countries, devices, languages, and internet speeds.
Whether you want to sell developer courses, local sports streaming, films, or TV series, OTT platforms empower your business to build custom-made streaming services for your customers. You get to customize the player, user experience, and monetization methods specifically for your content and audience.
For example, you could use an OTT platform to monetize your video content with the following methods:
Advertising Video on Demand (AVOD): Provide free content for your viewers that they can consume by watching advertisements before and during your videos.

Subscription Video on Demand (SVOD): Require users to pay a fixed monthly subscription fee to access your video-on-demand (VOD) library or live-streamed content.

Transactional Video on Demand (TVOD): Sell or rent your videos on a pay-per-view basis where customers access the content for a limited time for a fraction of the cost of subscription models.
How Customers Watch OTT Content
Your audience can consume OTT content in a multitude of ways, which is one of the primary advantages OTT has over cable and satellite solutions. Customers can start streaming your content on their phone, switch over to their laptop, and finish on the smart TV.
Here are all the ways modern-day consumers are watching OTT content:
OTT Devices
OTT devices can turn any TV into a streaming solution. Some smart TVs come with over-the-top streaming built in, while others will need additional hardware. This equipment is purpose-made to enable OTT. Here are a few examples of OTT devices:
Roku

Amazon Fire TV Stick

Google Chromecast

Samsung Smart TV

Android TV

Apple TV
Gaming Consoles
Modern-day video consumers also watch content on their laptops, tablets, and mobile phones. These devices primarily serve other purposes, but they're built with the technology necessary for OTT consumption.
Key Differences Between OTT and Traditional TV
The differences between OTT and traditional TV have continued to grow as technology and cloud-based applications evolve. Here are a few of the critical distinctions:
Hardware: Traditional TV requires satellite or cable box hardware, including hands-on installation and maintenance.

Advertising: OTT consumption lets you make data-backed advertising decisions rather than blasting a global audience that might not be interested in the content.

Prices: Cable has less flexible pricing options. OTT streaming services allow customers to pick and choose price plans that work for them.

VOD: TV digital video recorders (DVR) transformed VOD options for cable and satellite viewers, but they still can't compete with the vast libraries of VOD and live-streamable content that OTT streaming services provide.

Availability: Consumers can watch OTT content on practically any mobile device rather than having to view videos solely from cable or satellite-connected TVs.
Why Do Businesses Need an OTT Platform?
OTT platforms provide you with all the pre-made tools you need to deliver content to your audience. Solutions like JW Player give your developers APIs, SDKs, and OTT apps to empower your teams to build video into any application:
Website

Landing page

Video repository

Mobile app

Smart TV app
However, it's not enough to just enable OTT consumption for your audience—you need to optimize for it. Your viewers don't just want to watch video content on their phones, computers, and TVs—they want silky-smooth load times, reduced buffering, and high-quality resolution. They want smart recommendations that help them find other relevant content they might be interested in viewing.
OTT platform providers come with the monetization options you need to profit from your video content. Whether you want to embed ads in your videos or gate your content behind a subscription, OTT providers help you get the job done efficiently and securely.
You won't have to worry about leaving money on the table with consumers illegally getting access to your content or distributing it without permission. Complete video platforms provide data rights management (DRM) solutions to protect your content regardless of the device or region.
An enterprise-quality OTT platform also prevents trust-breaking outages and service disruptions. When you host all your videos on your own server, you're vulnerable to downtime. OTT platforms tend to take a multi-CDN (content delivery network) approach that ensures your consumers never experience any downtime, regardless of failures at single server locations.
Which Businesses Need an OTT Platform?
Video is the future of content. These days, every company is a video company. Whether you're publishing educational courses, fitness classes, or faith-based lectures, video is likely at the heart of what you do.
While we believe any business can benefit from an OTT platform, these are the industries that will profit the most:
1. Film and TV
Live TV and film broadcasters need platforms to host and deliver live and VOD content. Broadcasters need a service they can trust for 24/7 streams and events at high resolutions. They also need a platform that can quickly convert live-streamed content into video on demand, helping them capitalize and maximize profits on every piece of content they produce.
2. Fitness
Fitness classes are moving from the studios into the homes with the help of live streaming and VOD content. Enterprise-grade platforms help you avoid tempo-disrupting buffering while serving your content to audiences of any size. Advanced platforms also let you customize your player to match your brand and workout. Plug your videos (live or VOD) into your mobile application or OTT-connected devices to empower your customers to easily take the workout from their living room to the basement to the gym.
3. Online Courses
Add video lectures to your online course or mobile application to take learning to the next level. Whether you're hosting a single class or an entire catalog of courses, use a platform to host, organize, and deliver first-class video experiences at scale. Unlike YouTube or Vimeo, OTT platforms like JW Player let you provide an on-brand experience and promote your own videos—when your audience finishes the first lecture, they get prompted with your relevant content instead of your competitors'.
4. Sports
Stream live and on-demand sporting events to your audience. Feature everything from your local professional teams to high school playoffs to the regional pickleball tournament. OTT platforms help you deliver this content with a 99.99% global delivery time, ensuring nobody misses an important play because of an outage or loading icon.
5. Faith
More church services are moving from the chapel to the internet thanks to the ease and convenience of OTT platforms. Broadcast your live lectures to your audience via your website or application, and quickly convert your lectures into videos to engage your audience and further monetize your content.
6. Gaming
Professional video game streamers need platforms they can trust to capture and deliver high-quality content without compromising their performance. Audiences want to engage with live videos and on-demand video, meaning you need transcoding and hosting you can trust.
Examples of Companies Using OTT Streaming Platforms
There's a good chance you've already engaged with an OTT service today—whether you watched a quick YouTube video or put on a Disney+ TV show for your kids. Here are a few common examples of companies using OTT streaming services:
Netflix

Hulu

Disney+

Amazon Prime Video

Apple TV+

HBO Max

NBC Peacock

Paramount+

YouTube TV

ESPN+

Sling TV

fuboTV

Discovery+
Not every OTT streaming service provider will look the same. Some services, like Netflix and Disney+, only provide VOD, while others, like Peacock and YouTube TV, deliver VOD and live-streaming content. Keep this in mind when choosing an OTT video platform for your own video content. You'll want to find a service with the right hosting, video delivery, and monetization features for your content and audience.
The 7 Best OTT Streaming Services for 2023
We narrowed down your options to help you find the right OTT platform for your business. Below, you'll find the seven best OTT streaming services for 2023. We also used popular review sites like G2 and TrustRadius to find customer-verified pros and cons of the software.
1. JW Player
JWP is the leading OTT platform for publishers and broadcasters. Our complete online video solution empowers businesses with a customizable HTML5 video player, live-streaming and video-on-demand content delivery, industry-leading ad support, and rich engagement features. Plus, it's developer-friendly with easy-to-use APIs and native SDKs for app development.
Pros:
Comprehensive end-to-end video solution

Secure, reliable, and user-friendly

Quick upload times and fast streaming delivery

Easy-to-use APIs and SDKs

Affordable plans for companies of all sizes
Cons:
No podcasting solutions

Some users on G2 found JW Player takes time to set up more advanced functionality
2. Kaltura
Kaltura is an open-source video management platform that focuses primarily on educational content. Users have complete flexibility when it comes to designing their video player, allowing them to adjust colors, branding, and even available features. Thanks to its open-source roots, everything can be built and changed with custom integrations and community-sourced add-ons.
Pros:
Highly customizable

Education-specific tools like virtual classrooms, lecture capture, and campus portal tools

Open-sourced software
Cons:
Users on G2 complained that Kaltura is too complicated and requires heavy developer resources

Users on G2 found that the platform doesn't perform well on iPads and other tablets
3. Dacast
Dacast provides a live streaming and VOD platform for small-to-medium-sized companies and enterprise businesses. It's best known for providing top-notch international streaming experiences thanks to its CDN approach, and it has a reliable technical support team for helping companies to overcome setup hurdles.
Pros:
Reliable CDN solution

Available APIs and SDKs

24/7 technical support
Cons:
A few users on G2 complained about unreliable APIs

Some users on G2 experienced bandwidth and streaming issues
4. Wistia
Wistia is a video platform built for marketing teams and content creators. It provides easy-to-use non-technical features for creating, hosting, marketing, and analyzing video content. Wistia integrates with your marketing tech stacks and workflows to make video a seamless extension of all your marketing activities. While Wistia doesn't provide live-streaming video options, it has launched a webinar product.
Pros:
Marketer-friendly tools and integrations

Clean, easy-to-navigate user interface

Ability to create webinars
Cons:
A few users on G2 complained about poor analytics and insights

Users on G2 don't love the pricing or charges
5. Vidyard
Vidyard is an OTT platform specializing in video solutions for marketing and sales teams. It provides built-in tools for search engine optimization, lead generation, email capture, viewer engagement, and more. Vidyard empowers sales reps to quickly record and send videos to potential clients with easy-to-use screen and webcam recording features and templates.
Pros:
User-friendly interface and features

Powerful sales tools, recording options, buttons, and links

Reliable support
Cons:
Some users on G2 have complained about buggy features

A few users on G2 complained about back-end management and terminology confusion
6. Muvi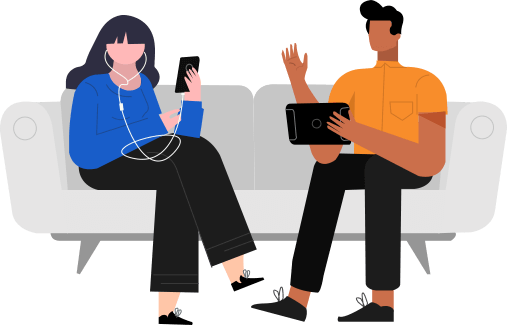 Muvi is an OTT tool designed for building your own video streaming platform (like Netflix or Hulu). It provides a complete white-label experience for products, meaning you get your own domain name and custom player branding. Muvi also has one of the industry's strongest audio-only streaming options, making it easy for businesses to add podcasts and music to their list of offerings.
Pros:
Easy-to-use platform that doesn't require technical know-how

Audio-only streaming for hosting podcasts and music

White-labeling features for complete customization and branding
Cons:
Some users on G2 complained about modifying pre-built templates and wished there were more options

A few customers complained that the free trial version lacked features to truly test the software
7. Brightcove
Brightcove is an enterprise-grade OTT platform designed to host and build video streaming services. Pricing can be a bit expensive, but businesses get access to first-class CDNs, APIs, integrations, and broadcasting features.
Pros:
High-quality technology and tools

Wide range of marketing and sales integrations
Cons:
Users on G2 complained about the user interface being outdated and clunky

Some users on G2 had issues with the analytics and live-streaming metrics
OTT Streaming Isn't Just for the Big Players
Big-name companies like Netflix and Hulu might dominate the streaming landscape, but there is still a place for your business. Communities and consumers demand niche content that the industry leaders just aren't providing, and you have the chance to capitalize on the interest.
For example, consider the following content offerings:
Unique Fitness Classes: Not everyone wants to stream a yoga class. What if you released boxing lessons, how-to soccer videos, or backcountry skiing tutorials?

Local Sports Streaming: Everything is better when it's local. Consider providing local sports streaming for everything from your amateur hockey team to the high school's basketball team to the adult indoor soccer league.

Local News Stories: Newspapers are dying, but video isn't. Consider turning your town's newspaper into a video news repository mixed with live and on-demand playback.

Concerts: Live-streamed concerts are growing in favor, especially with some music lovers still hesitant to stand shoulder-to-shoulder with thousands of potentially sick strangers.

Faith Groups: You don't need a megachurch to justify streaming your services. You might have an interested group of followers who want to watch everything from Sunday sermons to weekday bible study groups.

Work Conferences: Consider taking your internal all-hands and company kickoff meetings online instead of solely in person. And consider doing the same with your annual customer conferences.
This isn't a comprehensive list, either. This is just an example of what happens when you think a little bit outside the box.
Use this as a jumping-off point for coming up with your own unique content idea. As more streaming services emerge, consumers will likely be less satisfied with a generic platform and more eager to find a niche service tailored to their special interests.
Here's a look at how our own customers are getting creative and building unique video streaming services:
Knowledge Network is an independent (free and ad-free) publicly funded educational cable TV network in British Columbia. They needed a digital solution that was affordable but also could deliver content at the scale they imagined. After switching from traditional to OTT, they grew viewership by 55% over the next couple of years.
Watch Live Jazz is innovating the music industry by taking jazz performances and festivals online using JW Player's OTT solution. Challenging the pandemic and its limitations head-on, the organization set up a live-streaming solution for a small Amsterdam club that allowed for a top-notch hybrid viewing experience. The company is averaging 3,312 minutes of live consumption each month and growing by more than 100 subscribers each month.
Q.Digital is the world's largest LGBTQ-owned and run media network, reaching 9.5 million people each month. The network used JW Player's OTT platform to embed video players across their site in the sidebars and landing pages. The result? Q.Digital increased monthly video plays by 10,976% (not a typo) and grew ad impressions by 25,791% (again, not a typo).
How to Choose the Right OTT Platform
OTT platforms have made it simple for any company to get serious about video content—the hardest part is choosing the right one. Searching across the internet (and our list above), it's hard to narrow down your options and find the best OTT platform.
To complicate the matter further, there's no one-size-fits-all platform for everyone out there. Some OTT platforms cater better to startups and small businesses, while others provide more enterprise-level hosting and performance. You'll also need to find a platform with the features your business needs to deliver the right experience. For example, you don't want to choose a platform that prioritizes video on demand hosting when your content is best served (and consumed) in a live-streaming format.
You'll also want to consider factors like device compatibility and monetization. A platform like YouTube primarily lets you monetize your content with advertisements, but a comprehensive platform like JW Player opens your options up to TVOD and SVOD models, too.
All in all, it's a lot to consider—so we wanted to help by highlighting a few key decision-making criteria:
Content Delivery
Look for an OTT platform with a multi-CDN. Single CDN solutions are still vulnerable to outages and service disruptions. A multi-CDN approach gives you a fallback plan in case a single CDN goes down, and it also expands your geographic distribution and performance.
For example, JW Player's multi-CDN solution gives you points of presence (POPs) in 130+ countries. Think about your business's future direction. While you might be delivering to a single region at the moment, consider a solution that won't limit you if you decide to expand to an international audience down the road.
Transcoding
Find a service that'll transcode your content uploads for various resolutions and devices. You want to ensure that your desktop and mobile users have a great viewing experience, regardless of their location or internet bandwidth.
Ease of Use
It doesn't matter how affordable or sophisticated your OTT platform is if the back end is too difficult to navigate. Find a solution with an easy-to-use user interface (UI) for your program managers.
While you're at it, find a solution your developers will love. You'll want a platform with APIs and SDKs for building whatever your content needs—and this functionality needs to be backed up with sufficient documentation and world-class support.
Monetization
Choose a platform that lets you monetize with a variety of options. You might want to offer your audience different viewership tiers, and you need a platform that'll enable that functionality. For example, you might want to let viewers watch your content for free with advertisements while still offering an ad-free subscription option. Popular OTT streaming services like Hulu and Peacock take advantage of these pricing models.
Video Performance
Video performance is a non-negotiable element when choosing your OTT platform. Your audience needs to be able to watch content in a variety of formats that'll meet their device and internet connection's minimum requirements. The same goes for your live streams—find a platform that reduces latency issues and prioritizes the viewer's experience.
Analytics
Data helps you make decisions about the future content you produce for your audience. Choose a platform that lets you gain valuable insights into how your viewers watch and engage with your content. Ideally, find a platform with real-time metrics to enable you to make decisions faster, especially when it comes to live video.
Content Protection
Safeguard your content with a DRM solution made for video content. You need security features like HLS token signing, 24/7 monitoring, and geo-blocking to ensure that only paying customers (with the right permissions) get access to your content.
Engagement Features
Watching a video is just the first step in your customer's journey. You want to lead them down your pipeline to discover other pieces of content and articles relevant to what they're viewing. Find a solution with rich engagement features that'll keep your audience entertained and watching for longer.
Pricing
Regardless of the features and functionality, you can't choose a platform you can't afford. Talk to sales teams at the OTT platforms you're interested in to get demos, walkthroughs, and personalized quotes. Armed with this information, you'll have everything you need to make the best financial decisions for your business.
Furthermore, find a platform with a free trial. This will let you get hands-on experience with the product before you even think about taking your credit card out, ensuring your personal interactions dictate the best product for your business.
What's the Future of OTT Streaming?
Despite OTT's market emergence and dominance, it's still relatively new to the world. While it might seem like a lifetime ago, most of us weren't walking around with smartphones until fairly recently. The future of OTT streaming is young and full of potential, and here are our predictions for where it's heading next.
More Pricing Options: Even strictly SVOD companies like Netflix are beginning to dabble with advertised-based models. More options mean more inclusivity (and better experiences) for customers, and that leads to increased retention and lifetime value.

Delivery Expansions: Customers want access to live-streaming content and VOD. The services that provide both have a leg up on the competition, and that could make the difference when customers start getting picky with their streaming subscriptions.

Fierce Competition: You thought we already had too many streaming services? This is just the beginning. Companies will need to get bold and innovative to stand out from the competition and win their target market.

Riches in the Niches: Right now, most streaming services try to be everything for everyone. As OTT streaming evolves, look for niches to emerge, such as products catered specifically to someone who likes country music (as opposed to all music).

Engagement Focus: Companies will begin getting more creative with how they attract and retain viewers. It's not enough to get customers on your platform—you need to convince them to stay, and that's easier said than done.
Get Started With an All-in-One OTT Platform
Don't settle for just any old OTT platform—choose one that's purpose-built for your needs. We built JW Player to be a complete video platform for your company to connect and engage with your audience on a deeper level, regardless of their device, location, or bandwidth.
Play: Build our high-quality players into your website, mobile app, or connected TV to deliver top-notch video experiences without limitations.

Stream: Provide live-streamed content and video-on-demand products at scale (and at pace).

Monetize: Optimize your ad revenue with industry-leading ad support to maximize fill rates and CPMs across screens and platforms.

Engage: Capture your audience's attention faster (and for longer) with engagement products like Article Matching and Recommendations.
Get your hands on the platform and see for yourself how easy it is to upload, organize, and deliver video content with JW Player. Sign up for our 30-day free trial to get full API and SDK access (plus 25GB hosting and 75GB streaming).